SD1000

The SD1000 is an interesting addition to the field of sound modules in terms of compactness and musical performance. In addition to offering all the timbre sounds required to perfectly play back musical files in General Midi standard and Kar, the SD1000 also has other additional sound banks with an incredible variety of Orchestral Voices: Grand Piano Stereo over 88 notes, Acoustic and electric Guitars, Brass and Saxophones of unique quality, Sample Organs, Accordions, Bass instruments, Strings, acoustic and electronic Drum Sets etc.
Normal Retail Price : £465
Ketron Direct Price : £359
Free UK Delivery
The SD1000 offers an outstanding number of audio Loops of Drums and Percussions, split up into the widest variety of musical genres, which certainly make the SD1000 stand out from other similar modules.
The module's top application is when it is combined with a MIDI player (such as KETRON MIDJAY for example), or with a sequencer on computer (Logic®, Cubase®, Cakewalk® and others), but it can also be connected to Master keyboards or multi-purpose Keyboards (Arranger, Synth, Digital pianos, etc.).
USB MIDI PORT

Thanks to its integrated USB port, it can be easily connected to a laptop and used in the world of musical entertainment to play back Midifiles or to improve the poor sound quality of the integrated audio boards in personal computers.

Thanks to two separate MIDI ports (2x16 channels), it can play back 2 different midifiles simultaneously, so that it is possible to mix two different songs directly or switch gradually from one to another.
It has never been so easy to create a top quality yet inexpensive entertainment station so quickly, reliably and safely!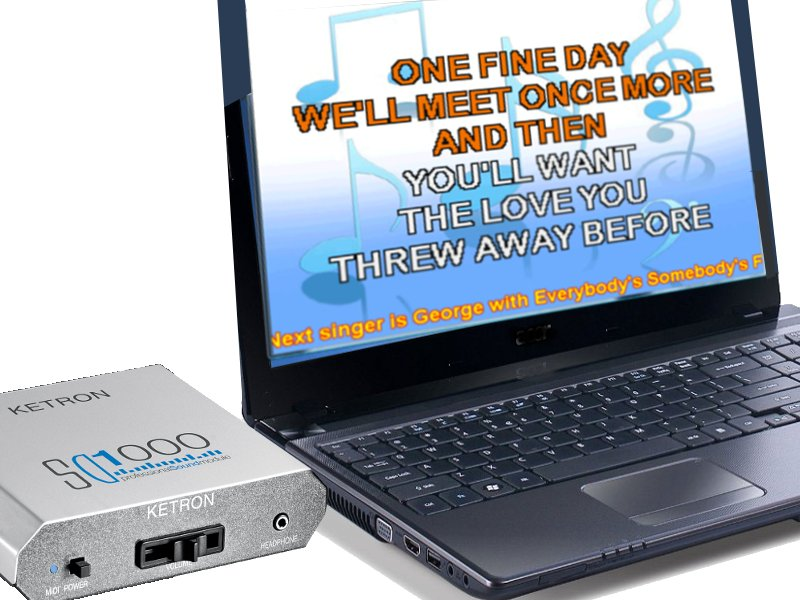 HOME STUDIO
In this context, the SD1000 is able to express its potential to its best.
It can be connected to a computer (PC or Mac) via USB, via the Midi cable (if you already have a board with Midi interface), or via the Midi to USB cable supplied as an optional accessory by KETRON.
Using sequencer programs such as Cubase®, Logic®, Cakewalk® or similar, you can add the SD1000 successfully to musical elaborations (Midi files, Jingles, Mix Audio, etc.), fully exploiting its impressive sound versatility.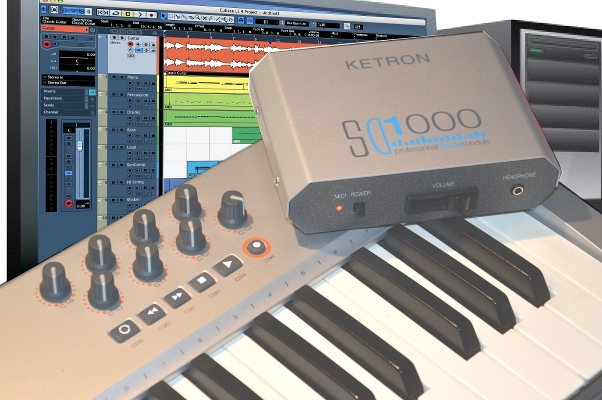 To make it easier to integrate the instrument in the most popular musical production software platforms, KETRON offers a number of templates (which you can download free of charge from the website) thanks to which you can easily and immediately control all the instrument's resources (sounds, effects, drum sets) directly from your preferred sequencer.
Downlad Logic Template
Downlad Cubase Template
Download Sonar Template
The SD1000 can be used as a supplementary module to enrich the timbre range of your keyboard. It is also just as suitable to be coupled with Master keyboards that do not have any sounds or with the modern mini remote keyboards (multimedia keyboards), which have become more and more popular in the live set. We are convinced that such a powerful yet compact sound module can certainly become a part of every musical set up.


Audio Loops and New Sounds.
In addition to the well-known timbres of the reference standard (GM), the SD1000 comprises other Sound Banks with lots of characteristic sounds of the conventional families (Pianos, Strings, Sax, and Brass etc).
The top feature of the SD1000 compared with other sound modules is definitely the presence of so many audio Loops (Drum Loops, which can be downloaded free of charge from our website). Just think, you can add these Loops to your musical creations….to enrich, if not even replace, the rhythms of the songs and to make the difference with everything that has already been elaborated within the Midi files.
Just a quick example: Imagine a Midi file of Caribbean music, where the Latin percussion parts are not always convincing. You can add some Patterns from the database of the Loops in addition to or, even better, to replace the existent Drum track (Copy & Paste). In just a few moves, you can replace the Midi rhythmic structure with audio Loops with amazing results. Obviously, once the musical file is complete, you can save it in whichever format you prefer and play it back with any sequencer or Midi player (e.g. MIDJAY or similar) by connecting it to your SD1000.
Download SD1000 Groove Library
NEWS ON SOUND LIBRARY !!!
On the list of the Sound Library of the SD1000 (available in the instruction manual) you will notice some initials next to some Voices. These initials help you to better understand how they were obtained and how to use them in the best way possible in your musical productions.
(M): MULTIVOICE. These sounds are obtained with two or more voices simultaneously.
(ST): STEREO. These sounds are really Stereo sounds because they are created with two samples for each note played.
(LDM): LIVE DRUM MODELLING. In these Drum Sets, some instruments (such as the Snare, Rim shot, Claps or other) play with different samples on the same timbre. These samples are addressed casually to reproduce the sound variables of a live rhythmical performance in the best way possible.
(FXV): EFX INSERT VOICE. The last 9 Voices listed on the Sound List of the SD1000 are obtained (just as an example) using effects in the EFX Insert mode (such as HQ Overdrive, Chorus and others). We suggest you use this feature to strengthen the sound quality of the musical productions with the SD1000.
A powerful and flexible DSP.
The SD1000 has a powerful and flexible DSP, which is incredibly versatile and programmable. In addition to the two Reverb and Chorus sections, there will also be a Rotary and Wha Wha effect and a Hi Quality Distortion.
Two Insert effects with Chorus, Flanger, Phaser, Tremolo, 4 Band Parametric EQ, Compressor and Delay can be connected to the tracks of the midifiles played back to provide further realism and vitality to the sounds of the SD1000.